How Innovation is Shaping the Future of Aquaculture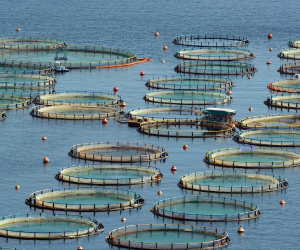 What is the current state of the fishing industry?
The global demand for fish and seafood is expected to double by 2050. Although a great renewable resource, how are we expected to manage our fish stocks? In the UK alone £5.7 billion of fish and seafood is consumed each year, imported from more than 85 countries. Nearly a third of monitored global fish stocks are overfished, and over 60% are fished to the maximum sustainable yield according to the WWF. These figures do not account for illegal fishing and the accidental fishing of non-target sea creatures, which are often caught in fishing gear.
The global consumption of fish is expected to reach 180m tonnes by the end of 2030 and the ocean only has a finite resource. What is the solution to our global fishing requirements? Fish farming is the fastest growing form of food production in the world with aquaculture accounting for nearly all the growth in fish consumption, albeit with environmental damages. Many fish farms are grown in net pens, in rivers or the open ocean, resulting in food and fish wate penetrating the surrounding waters. When the net breaks, escaped farmed fish damage the local ecosystem, altering the delicate balance of the oceans. Additionally, farming fish within freshwater rivers, leads to outbreaks of diseases and parasites that penetrate clean drinking water. Antibiotics are distributed to the fish to prevent bacterial infection and keep the risk of disease outbreak low.
The future of fishing is on land?
Newer fish farms are tackling the problems of disease through a process known as 'recirculating aquaculture systems (RAS)'. Rather than requiring a constant flow of water to maintain a healthy fishery, a RAS system spawns fish on land using tanks whose water is constantly cleaned and recycled. As a result, RAS systems use less water, offer a cleaner environment for the fish, and can allow for any species to be spawned across the globe. The technology within RAS has derived from the sewage treatment sector. Fish faeces and uneaten food are removed first, which is generally in the form of ammonia, a toxic substance, which is filtered and recirculated. Water usage is reduced by 99%. Salmon farming alone consumes 50,000 litres of water per kilo of salmon produced. A RAS system may need just 150 litres and leaves the wild environment alone, protecting the ecosystem. There are challenges to a RAS system, including keeping the fish alive in tanks, high costs, maintaining oxygenation levels and specific temperature controls, but the technology can substantially alleviate our current aquaculture problems.
How can we sustainably feed our fish?
A key challenge faced by the aquaculture sector is the need for sustainable feed. Most farmed fish feed consists of ground fish and fish oil. These products are resource intensive with a substantial portion of fish currently being caught solely to produce feed. The population of smaller 'forage fish', such as anchovies have declined dramatically, simply to feed farmed fish. This naturally damages the broader ocean ecosystem. The entire aquaculture process is at the centre of a cycle where overfishing is intrinsically linked to farmed feed. Recent developments
have begun to bear fruit. Alternative vegetable proteins can replace traditional fishmeal, whilst the use of farmed insects as feed has garnered significant interest. A more popular alternative has derived from microalgae, which has a lower carbon footprint and rapid growth rate compared to fishmeal. A variety of companies are actively developing microalgae products as a sustainable feed for fish, rich in protein and nutrients.
Summary
The aquaculture industry currently faces strong sustainability challenges. Global consumption of fish and seafood is rising rapidly, whilst farmed fishing faces many issues surrounding disease and environmental damage. Nevertheless, the growth of sustainable aquaculture practices and innovation within this sector offers substantial opportunities for the future of the sector. More consumers across the globe will benefit from healthy fish and seafood, rich in protein and micronutrients. As we look to feed the planet sustainably, aquaculture can offer long-term solutions to a growing global population.
Jawad Allawi
Managing Director
Email: jawad.allawi@frontier.events