Listen to the Planet Pod Podcast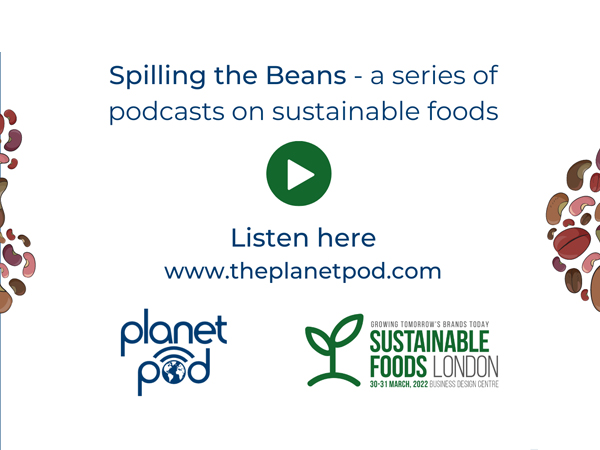 Expanding Diets to Discourage Monoculture Farming
Sustainable Foods London has teamed up with Planet Pod to create a series of podcasts on sustainable food ahead of the London event (30-31 March 2022, Islington Business Design Centre).
This week's podcast sees Dorothy Shaver, Global Food Sustainability Director at Unilever and Ivo Mulder, Head-Climate Finance Unit at UNEP discuss the challenges we face when looking at feeding our ever-growing population and how we can afford healthy and sustainable diets.
Mulder explained that with 43 percent of all agricultural land having around 10 percent tree cover, a larger majority of all agricultural land is pure monoculture. This is due to the commercialised and scaled approach both developing, and developed countries take in terms of trying to produce similar food at an ever-cheaper cost.
This leads to fewer food groups being incorporated into our diet, leading to less demand for them and less profit for the farmers who produce them – further perpetuating monoculture. While there is currently a movement to grow and eat locally, there are still too many people not questioning how and where they get their food from, and what impact it has on the planet.
Shaver explained that it is largely known that a shift to plant-based diets is essential to combating climate change, however, this would require the global population to reduce meat consumption by up to 80 percent. Shaver, who was previously a dietitian, has suggested that mainstream media, and supermarkets need to start introducing and familiarising consumers with more diverse foods groups.
Shaver goes on to explain that we need to expand diets to get vital nutrients and vitamins from several different food sources and teach consumers how to flavour and cook these new foods. This will not only encourage more sustainable and healthy eating habits but also encourage profit-driven farmers to ditch monoculture, and instead yield a variety of crops which is better for the land in the long term.
Listen to the entire podcast hosted by Amanda Carpenter from Planet Pod to dig deeper into the challenges facing sustainable food sources – https://theplanetpod.com/seaweed-pizza-anyone/
See Dorothy Shaver and Ivo Mulder speak at Sustainable Foods London later this month